Many people want to choose to tighten their stomachs without much effort, or they want an effective way to burn belly fat. Today, we are discussing a product call Genie Hourglass waist training belt. We hope you can determine if it is right for you by reading our Genie Waist Trainer Review article.
The Genie waist trainer (known as the Genie Hourglass Belt) is a GenieBra or Tristar Products Inc.'s waist training belt that claimed that if a user puts on his or her body, your waist will immediately shrink 2 inches in seconds. They tout as its dual compression waist training technology can smooth your bulges and define the curves while shape your waistline which can make you look and feel great.
What is the Genie Hourglass waist trainer?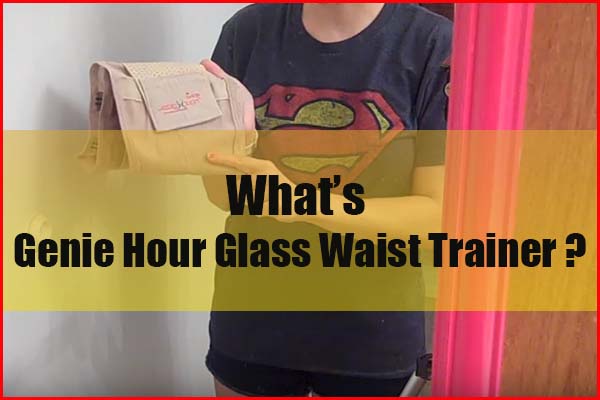 It's consider is a piece of undergarment give you an hourglass figure result.  It works by fastening a double compression belt on your waist, which instantly slim your waist, hide your love handles, and flatten your midsection, while the whole process takes only a few seconds to make your waist look up to two sizes smaller.
It's designed to fit directly under your clothing, and it's fully adjustable to your liking, so no one notices it during exercise or dating. Over time and continued use of Genie, it really can cause your waist size to shrink. It is a great way to slim and tighten your figure without painful procedures, and it is a great way to boost your confidence. Also, the Genie hour glass belt provides your back support to avoid your bad habit posture.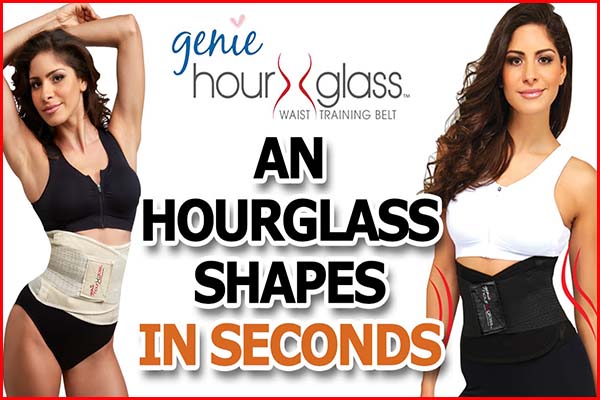 Features
Easy to use. In just two steps, you can fix the compression shaper and adjust the slim waistband. You are done!
Various sizes. Sizes from S to 4X.
Shapes your waist. It is designed to shape the waistline, define curves, provide back support, and smooth the bulge in just a few seconds.
It is fully adjustable. It can adjust to fit you more snugly or loosely.
High quality with hassle free maintenance: It's easy storage and clean.
What size is Genie Hourglass?
The Genie Hourglass waist training belt is available in sizes:
S/M size fits for waistline: 23-31; or pants size: 0-6
L/XL size fits for waistline: 32-39; or pants size: 8-16
1X/2X size fits for waistline: 40-47; or pants size: 18-26
3X/4X size fits for waistline: 48-55; or pants size: 28-36
How does the Genie Hourglass waist trainer work?
Your hourglass figure can be achieved in two steps that are first fastened the compression shaper and then adjust it. You're done.
It is said that the Genie Hourglass uses double compression technology, which are combinations of a compression shaper and an adjustable training band. It's mainly help compressing your midsection, supporting your back and posture, and heating your core section so you sweat to burn off your excess stomach fat. Also, the Genie waist trainer is easily hidden under your clothes for show off your temporary hourglass body figure and increase your confidence. Its purpose to compressing your love handles to make you look slimmer instantly.
As you put on a Genie Hourglass belt over time, it helps to stimulate and heat the fat layer so that your body begins to metabolize and burn off excess fat, thereby firming the skin. However, the tightening effect is gradual, so you don't have to worry about leaving a lot of saggy skin.
What are the advantages and disadvantages?
Pros
Help stop slouching. It can force your posture into a better position when you're sitting down at your desk at work.
Good for back support. It helps keep your posture straight if you have back problems, so that you put less pressure on your back.
Makes you look slimmer. It helps to distribute your weight into a more attractive shape while building you an hourglass body figure.
Long term results. Regular use of it can achieve hourglass shape long-term results.
No assistant needed. It doesn't require someone to help you lace up like a traditional corset, you can adjust yourself.
Cons
May feel uncomfortable. It will be tight and restricting on your stomach area, so it is not suitable for all users, especially who have sensitive stomachs or don't like to feel restricted.
Less color option. Your initial purchase will be a black or nude color waist trainer.
Can be hot. It makes you sweat a lot and even can lead you dehydration, so it's important to stay hydrated and monitor body temperature.
What is the Genie Hourglass results?
What do other user reviews say?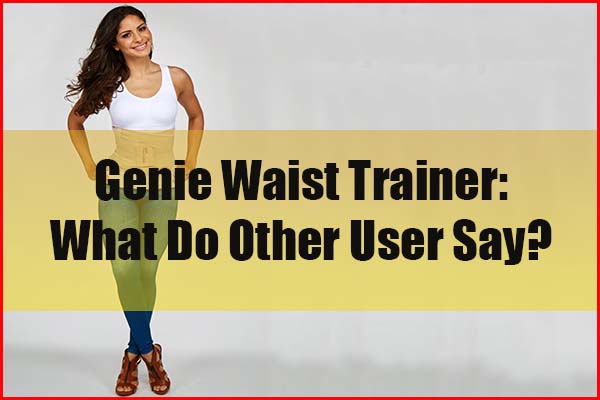 We checked the Genie waist trainer reviews online and we found that women who have used Genie Hourglass belt are giving its positive reviews. They claim that use it regularly reduces the abdomen by a few inches and helps tighten the abdomen. Those women who have given birth also appreciate that it's helped to tone the midsection, as it is a common problem area faced by mothers. Some customers are dissatisfied with the bones and materials used in construction, as a few have noticed that the plastic used for back support breaks easily.
All in all, most of women really like Genie Hourglass waist trainer. So, I think once you see how slim you will look while wearing this, you just might never go back.
Should you buy the Genie Hourglass belt?
If you are looking for an undergarment can help you achieve the hourglass figure or either want a non-invasive method to make your waist get a little smaller each time you wearing it, then the Genie Hourglass belt is the right product for you.
It designed to help you reach the toning and tightening results you need without putting so much effort in the gym. For best results, you can use it in combination with regular exercise and a healthy diet. Another best thing is that the Genie waist trainer is easy to clean and store without taking up too much space in your closet.
Tips & Tricks
Select the smaller size. Which means when you're in between sizes, then choose the size down.
At least buy two for everyday use and change. It's important to wash the Genie Hourglass waist trainer often because it causes your body to sweat and for avoiding its unpleasant smell. If you have two sets, you can change them every day.
Don't rely on it alone. Its help you to look slimmer but actually not. You must continue to work out by wearing the Genie as your abdominal muscles are a vital part of your body.
Purchase one for after giving birth. It helps to tighten the loose stomach and restore your body to the state it was before pregnancy.
Any suggestions before buying the Genie Hourglass waist training belt?
Its size range and two colors are available. It is critical that you have to double check the sizing before you decide to purchase due to wrong size just make nothing results. You can purchase from their official website GENIE BRA (https://www.geniebra.com) or their AMAZON which store name Tristar Products Inc.
The Genie Hourglass waist training belt might not fit for everyone, especially it can be dangerous for people who have asthma or lung disease. It potentially restrictive on your waist, which will cause you unwanted pressure on the midsection, and it limited blood as well as oxygen flow to your vital organs which result you hard to breathe. Therefore, it's important to speak to your doctor before beginning a waist training program. We hope you enjoy Genie waist trainer review article today.