Wouldn't it be awesome if we could achieve an hourglass curve result while as we slept? One of the common questions we get asked from our followers is – can you sleep with a waist trainer? We know everyone wants immediate see results same as Kim Kardashian, Khloe Kardashian, Jessica Alba, and others when getting your favorite waist trainer.
Waist training journey is something that might take time to get used to so that we recommend starting with 2 hours per day. Then, you can increase to 8 hours per day slowly.  By over time, you can see long term results with your waist training.
Sleeping in a waist trainer can be a way to get extra hours training in, but it probably not the most comfortable night sleep you've had. So we suggest getting your waist training hours while awake but not to wear while you're sleeping.
Although many self-proclaimed weight-loss experts and celebrities swear by its effectiveness and informed women should live in their sleep waist trainers 24/7, it seems fine really in theory that you might get results generated a lot faster if you can manage to fall asleep by wearing a trainer. But in reality, I'm don't think so.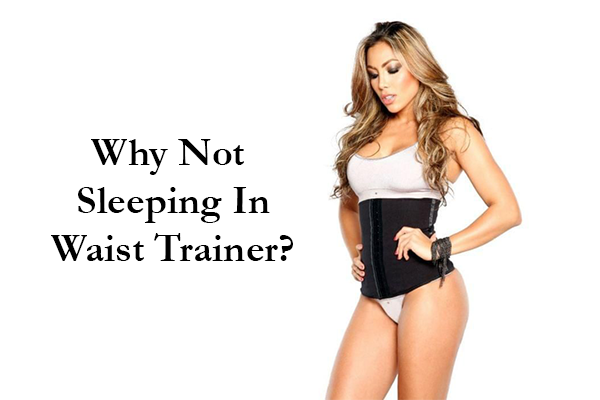 Is it bad to sleep with a waist trainer on?
There have several reasons to tell you why not sleeping with a waist trainer.
Most people are willing to spend a lot of money on the best mattresses and pillows for a good night's sleep. For some people, sleeping at the waist trainer can be very uncomfortable because it is tight and can have some adverse effects on your health.  You'll not be able to fall asleep because it's hard to ignore the pressure exerted by the waist cincher around the waist.
If you stick to this idea, then you choose the high-end waist trainer with good materials and adjustability so that you can still get the comfort you need to sleep well. Also, you may not even notice it once you get used to sleeping with it.
Nothing is more annoying than feeling sticky and hot during sleeping. Overheating can make it hard for you to fall asleep and interfere with your sleep quality so that you may wake up several times at night.
Sleeping with waist trainer on limits the flow of air around the waist plus if you need to cover your body with a blanket, you can imagine that your sleep quality will be bad. However, there are some waist trainers on the market that have a very breathable material to ensures maximum airflow, so that wearing them as you sleep will not cause excess sweating and overheating issues.
Sleeping in a waist trainer won't be a good idea if you are one of those women who often have acid reflux problems when you sleep, because it will make your condition getting worse. The contractile nature of the waist trainer and its somehow pushing the stomach and other organs can return gastric acid to the esophagus and throat leading to acid reflux. Acid reflux is very annoying because of it can cause sleep disorders such as insomnia and sleep apnea as well.
You might very excite to get that hourglass shape as soon as possible, but your body needs a break. Some experts recommend that you don't wear a waist trainer for more than ten hours a day because of sleep is not just rest, but the time when the body cells heal. Waist training is a long journey and sleeping in waist trainer can interfere with this natural healing, why not give your body a break?
Affect Your Sleep Position
Sleeping with waist trainer on can interfere with your sleep position and make it difficult to sleep in particular ways. Wearing a waist cincher will require you to keep the muscles engaged if you prefer to sleep on the side, which in turn makes it difficult to relax as you try to snooze.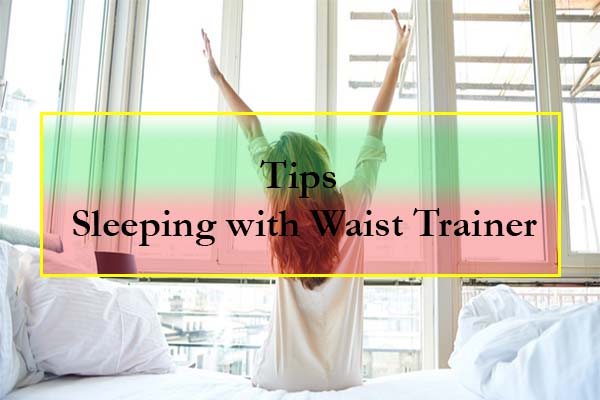 Tips for Sleeping in a Waist Trainer
Choose an adjustable trainer to fit for stomach bloating when you are on periods or have heavy meals.

It's a good idea to take it off for a few hours before bed to allow the body to breathe if you want to sleep with cincher.

Remove the waist trainer immediately if it hurts you and tries a different kind of waist cincher before you give up on sleeping with them on. You might feel uncomfortable to a particular trainer but does not mean all others are also uncomfortable.
Waist Trainer to use during the night
Anyone who plans to wear a waist trainer at night should invest in another piece, as it should be more soft and comfortable than the one design for daytime usage.
Shaba women hourglass waist trainer is a garment you may want to try for night time use. It's soft and relatively thin as well as comes with flexible boning which isn't going to restrict your movement.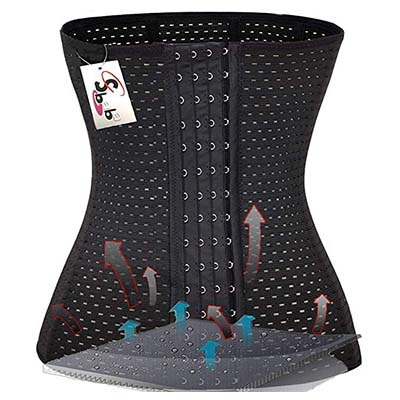 Lover-Beauty latex waist trainer corset is another model that can be used during the night. It's made of a stretchy, lightweight and breathable fabric which allows your skin to breathe and it's equipped with spiral stainless steel boning. Women find this model comfortable for use during the night or even can use for the day.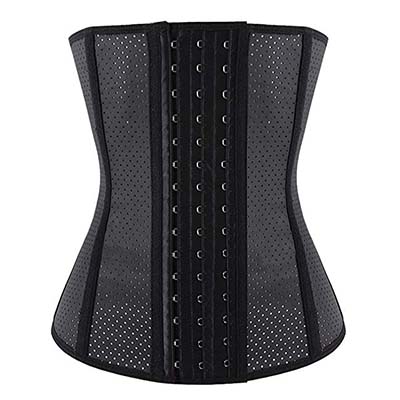 Conclusion
We know that women who have an hourglass waist are very appealing.  So consider the medical advice you get from your doctor if you still thinking the question "Can you sleep with a waist trainer on?". Also, it is a good idea to weigh the pros and cons of sleeping with a waist trainer before you decide to try. The practice of wearing a waist cincher to bed is not for everyone although you can't wait to get an hourglass. 
Read Article:
Don't Buy a Mens Waist Trainer before reading our Buyer's Guide
Best Waist Trainer Reviews 2020