You may find many contradictory suggestions and claim what corset vs waist trainer (also known as waist cincher) can do i.e., how they affect your health or how they shrink your waistline effectively, etc. If you are worried about wearing two of these garments, then I suggest you to read the following guide about the difference between waist trainer vs corset.
What is the difference between corset and waist trainer?
For you to understand more clearly, we have made a comparison table for you.
Product
Waist Trainer
Corset
Materials
Made from:

Made from:

Construction
Plastic/Spiral Steel Boned, Hook and eyes fastened in front
Steel Boned/ Laces in back /steel busk in front
Pros



Easily to put on


No bulky


Use for workouts


Use for fashion statements


Comfortable to sleep in


Breathable


Move flexible


Back support


Posture support


Keep your hourglass figure





Lasts a lifetime


Back support


Keep you hourglass shape



Cons



Won't last as long


Less sturdy





No move flexible


No comfortable


Expensive


Time consuming to put on and lace


Not breathable



Result
Average 2" to 6" off your waist
Average 2" to 7" off your waist
Price
$20 to $50 Read top 10 best waist cincher here
At least $100 or above
Structural materials
The corset is come with satin, cotton or leather. You will sometimes find them covered with silk, satin or mesh fabrics. The foundation of the corset is a thick and strong fabric called COUTIL. Also, you can find all material is non-stretch. In contrast, waist cinchers are made of latex, nylon or spandex materials, which are stretchable synthetic materials.
Steel boning
A corset is normally designed using a combination of flat or rigid steel boning and sturdy steel boning. Of course you might encounter cheap "fake" corsets with plastic bones instead of sturdy steel bones. These are best worn as fashion garments than use for waist compression.
A waist cincher is designed using acrylic plastic boning, or either spiral steel boning to help provide shape. The construction of waist cincher is usually less than a corset as only come with 4 spiral steel bones. Due to waist cincher come with spiral steel bone structure are designed to be flexible yet strong, so it is ideal to use for waist training purpose and other.
Hooks and eyes closure vs. lacing
The corsets have laces on the back which allow the wearer able to tighten and loosened. At the same time, it has busked at in front which are fastening made out of steel (i.e. loops on one side and pins on the other side), so it makes the wearer easy to get in and out of the corset. The wearer can tighten their waist based on their desire, but tightening too extreme may cause danger.
The waist cincher has a row of hooks and eye closure at the front, and no laces at the rear. Also, you might find waist cinchers have 3 or 6 rows of hooks and eyes fastened on the market because of allow you can cinch down properly while you start losing inches. It is easy to put on, unlike corsets, which take a long time to fasten the laces on the back.
Compression
The corset is designed to compress one specific area of the body: the female WAIST. It can average off your waistline 2 inches immediately when you put on. The corset can fit snugly around the waist and snug everywhere else due to its structure. However, its sturdy bone structure will limit you move flexible.
The waist trainer is a compression garment that can compress the entire abdomen or the entire torso. It averages can shrink your waistline at least 2 inches immediately when you wear it. Its allow you movement flex because of it's made of spiral steel bone.
Function and purpose
The corset is designed to give you a specific curvy body shape, whereas the waist trainer is for shrinking your waist to achieve an hourglass shape. Both garments are similar in purpose and function, but I sure that the use of the waist cincher is more than the function of the corset such as use for working out, wear as a fashion statement, and etc… A more appealing function is that if you want to hide the protruding fat under the fitted clothes, the waist cincher is easier to hide than the bulky corset. I think you should know which one to choose, right?
Result of corset training vs waist training
Yes, it is undeniable! The corset is really famous in ancient times, but it will be eliminated because of its limited use. You may still find some actress wearing it in the movie, but very rare female willing to apply it for corset training in reality. It's really uncomfortable.
Instead, the waist trainer can achieve the result are almost same and even more uses than a corset. No wonder many girls and even celebrities have already willing wear it for waist training. Beside of result are very effective to reduce your waistline, in term of price, comfortable, functional, wearing time, and so on are better than a corset.
In addition, it refers to wearing waist trainer for waist training all day without any issues, and even you can sleep in it very well, while giving your back and posture support. Instead, sleeping in corset during corset training will cause dangerous which are not suitable for everyone. It's time to try new things, right?
Is corset and waist trainer the same?
The difference between corset and waist trainer can be explained very simply, which means that they are basically the same for remove belly fat and reduce waistlines. However, nobody really wants to apply corset for waist training purpose now although it famous on Victorian era around the 16th century in Europe. Instead, the waist trainer product was launched in May 2015 and getting famous because of celebrities using it for waist training. It's not just effective on shrink your waist, but you can be worn above the clothes as a fashion statement, or worn underneath fitted clothes to hide your fat while highlight your hourglass shape result. So it might consider the best alternative garment to an ancient corset.
What is better a waist trainer or corset?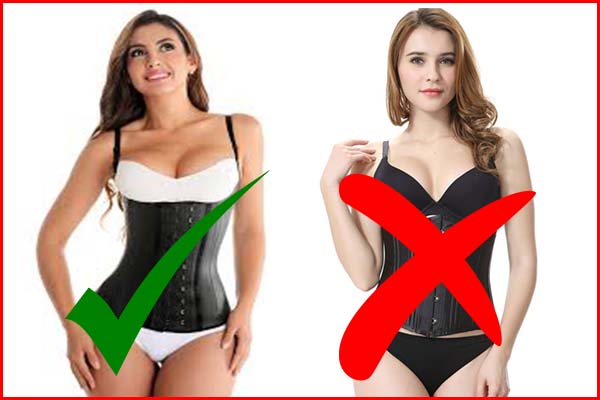 Suppose you're just concerned about the durability of the garment and the effect of reshaping the body, but not the comfort, price, bulkiness or other purposes, and then choose the corset. Note, it might cost more than $100.
I personally choose to use the waist trainer for daily waist training because I only can afford price range $20 to $50 budget. Meanwhile, its effect is better than corsets which include providing you with an hourglass shape immediately, you can wear it for abdominal exercises, use it as a fashion statement, etc… Besides, it only took me three seconds to wear it. However, the disadvantage is that it can last few years only.
It's time to turn you to decide which compression garment is good to you after you read the difference between waist trainer vs corset article.