Camellias Women's Latex Waist Trainer is a high quality latex cincher that gives you a comfortable and effective waist training experience. With regular use of this high-performance garment, you will notice a considerable reduction in your waist size in virtually no time.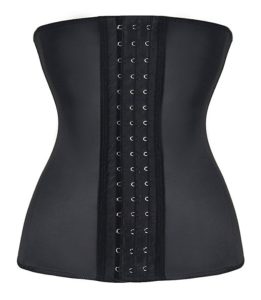 The waist trainer is made with 3 layers of high quality fabric with each layer serving a specific purpose. The outer layer gives durability and is 80% Nylon and 20% Lycra and Spandex. The middle layer is 100% latex to provide high compression to the abdominal area and to boost thermal activity and speed up weight loss. The inner layer is 91% cotton and 9% Spandex to give a soft and comfortable feel while also absorbing the sweat from your skin to prevent any discomfort.
3 columns of hook-and-eye closure are available to allow you to select an optimum compression for yourself. It also allows you to set the closure to a tighter setting once you start losing weight and notice a reduction in your waist size. It ensures a perfect fit throughout your waist training experience.
Read Article: Best Latex Waist Trainer Reviews
25 steel bones at the front and the back give sturdiness and structure to the waist trainer. The steel bones are flexible and can easily bend and recover their original shape. This ensures that you can wear it comfortably throughout the day and will feel no difficulty in any movements of body while performing any physical activity.
The high compression caused by latex will instantly take up to 3 inches off your waist in addition to lifting your busts to give you that much desired hourglass shape that you are hoping for.
The waist trainer is an ideal choice for everyday wear as an undergarment under your regular clothes as it is easily concealable even if you wear it under tightly fitted dresses. You will achieve an elegant figure without anyone being able to tell that you are wearing a waist trainer under your dress. It is also a suitable choice of garment to wear to the gym or for women who are looking for postpartum recovery. In addition to its weight loss benefits, it also gives support to your back and helps you improve your posture.
The garment is available in a variety of different sizes to help you select the perfect fit for yourself and get the most out of your waist training experience.
Read Article: Don't Buy a Mens Waist Cincher before reading our Buyer's Guide
Camellias Women's Latex Waist Trainer Corset Video Review
Editor Rating
Brand

Popularity

User Reviews
Summary
Camellias Women's Latex Waist Trainer Corset Review